John Henry Fuseli (1741-1825) ~ Born in Zürich, in 1779 Fuseli immigrated to Britain . His extensive oeuvre dealt with mythological and supernatural themes.
Francisco Goya y Lucientes (1746-1828) ~ The renowned painter of the Spanish Court, Goya became deaf in 1792 as a result of a high fever. His subsequent work turned eccentric and introspective.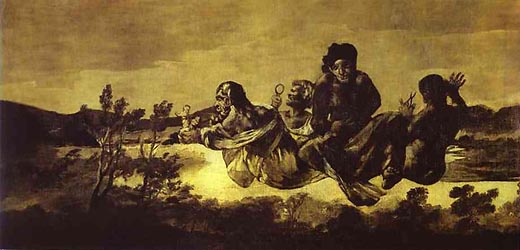 William Blake (1757-1827) ~ British visionary illustrator, whose work with Biblical and Mythological themes exhibited great originality and rejection of Christian orthodoxy.
Caspar David Friedrich (1774-1840) ~ A German landscape artist, who used barren trees, morning mist, silhouetted figures and Gothic ruins to explore themes of mysticism .
George Frederic Watts (1817-1904) ~ British classical painter known for many allegorical works, and for his influence on Dante Rossetti .
Theodore Chasseriau (1819-1856) ~ As a student of Delacroix, he explored many mythological themes in addition to his prevalent use of the Orientalist genre.
Pierre Puvis de Chavannes (1824-1898) ~ Student of Chasseriau, one of the three important artist of French Symbolism . Most of his major works were done as murals. But they were in fact oil on canvas, then attached to a wall .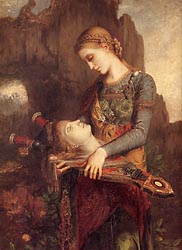 Gustav Moreau (1826-1898) ~ Moreau produced an impressive body of work with mythological and Biblical themes. In his various paintings of Salome, he promoted the theme of the femme-fatale, an important Symbolist motif. He is considered one of the most influential of all predecessors. A master of techniques, his style ranges from polished classical illusionism to dreamy watercolors. The unusual work Tattoed Salome (1874) incorporated primitive symbols carved into the painted surface. His work is original and evocative, with genuine antiquated qualities.
Arnold Böcklin (1827-1901) ~ Although born in the generation preceding the majority of Symbolist artists, many of Böcklin's important paintings were in fact completed at the dawn of the age of Symbolism .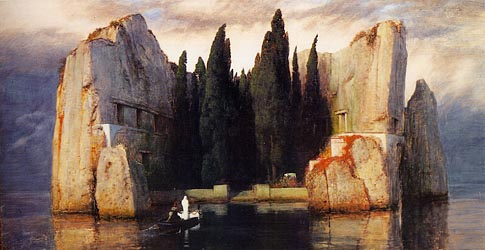 Dante Rossetti (1828-1882) ~ He was one of the founders of the Pre-Raphaelite Brotherhood, yet his art only became broadly known after his death at the dawn of the Symbolist era . The broodiness of his art was identified with within Symbolist circles.
Sir Edward Coley Burne-Jones (1833-1898) ~ Symbolist artists felt an affinity with the archaic qualities of Burne-Jones' work. He enjoyed an immense reputation, considered to be one of Europe's most important artists at the end of the 19th Century, during the age of Symbolism .